Everyone at Lake Fun is pumped up about warm weather and the start of boating season.  If you are like us then your first day on the lake is going to happen very soon.  Maybe tomorrow is the day, or maybe it is next week.  We like to think of everything so you don't have to.  What we are going to give you in this discussion is a list of items that you need to check before making your first trip on the lake this year.
Fire Extinguisher.  If your boat has a motor then it uses fuel.  If your boat uses fuel then you need a fire extinguisher, because the entire nature of a combustion engine is that it uses sparks and fire to propel your boat.  What you need to check is that your fire extinguisher has not expired, and that the pressure valve indicates that it is in good condition.  Depending on the size of your fire extinguisher you might be able to have it refilled at a local fire supply store.  If not pick up a new one and keep it in an easy to reach location.
First Aid Kit.  Take a look through your first aid kit and make sure it is up to date and that all your medicine is still current and that none of your supplies have melted or became old and crusty.  Some items you might add for this season are things like aspirin, liquid stitches, aloe vera gel, small bottle of spf 50 sunscreen, EpiPen, fresh gauze, neosporin, and an Ace Bandage.  I am sure you can think of some more essentials depending on your specific lake and activities.
Boat Gas.  Did you know that last year's boat gas might actually be bad for your motor?  With current levels of Ethanol in fuel it might be wise so recycle your old fuel at a recycling center and start off with fresh.  If your fuel has clumps in it or smells of varnish it might have already turned.  A good rule of thumb is not to let fuel sit for more than 4-6 weeks.  Be sure to dispose of it properly and get some fresh fuel to start the season.  If your boat has a carburetor you should definitely consider using fresh gas.  Trust me, I had to rebuild mine two seasons in a row.  I learned plenty about the carb on a 1983 Bayliner.  It is something I never want to do again.  Just trust me.  Fresh gas is good gas.
Boat Battery.  You need to make sure your boat battery is well charged after sitting all winter.  I suggest hooking it up to a trickle charger right now.  Also we did a complete blog post on your marine battery.  It gives some great tips on keeping your boat's electrical system in peak condition throughout the season and to begin the year on the lake.
Life Jackets.  It is time to take an honest assessment of your PFD's.  If they are ripped, torn, or faded it might be time to replace them.  I know you have been wearing your favorite life jacket since you were 11 years old, but what about getting a new one for this season.  The foam in a PFD does not last forever and the last thing you want is to have an emergency and your 20 year old PFD sink to the bottom of the lake because you refused to replace it.
Registration.  My state's boat registration comes in 1, 2, and 3 year replacement options.  I typically choose the 2 year option, because my boat is so old I never think it is going to make it through the next season.  It always does, so I just replace the sticker every 2 years.  You need to check your boat's registration sticker before heading onto the water for the first time and make sure it is not expired.  Old registration could lead to a hefty fine that there is no defense for.  An easy tip to remove the old letters or registration sticker from the bow is to use a hair dryer and lightly apply heat until you can peel it right off.
We thought of the essentials for items that you might want to check before you dip your boat into the lake for the first cruise of the season, but there are certainly hundreds of other items that you are going to need.  What are you favorite items to double check before heading out on the lake?  Share them with us on Pinterest, Twitter, Facebook, or Google +
#LakeSeason #LakeHairDontCare #LakeLife #LakeFun #MemorialDay #LakeSpringBreak #Lake
Summary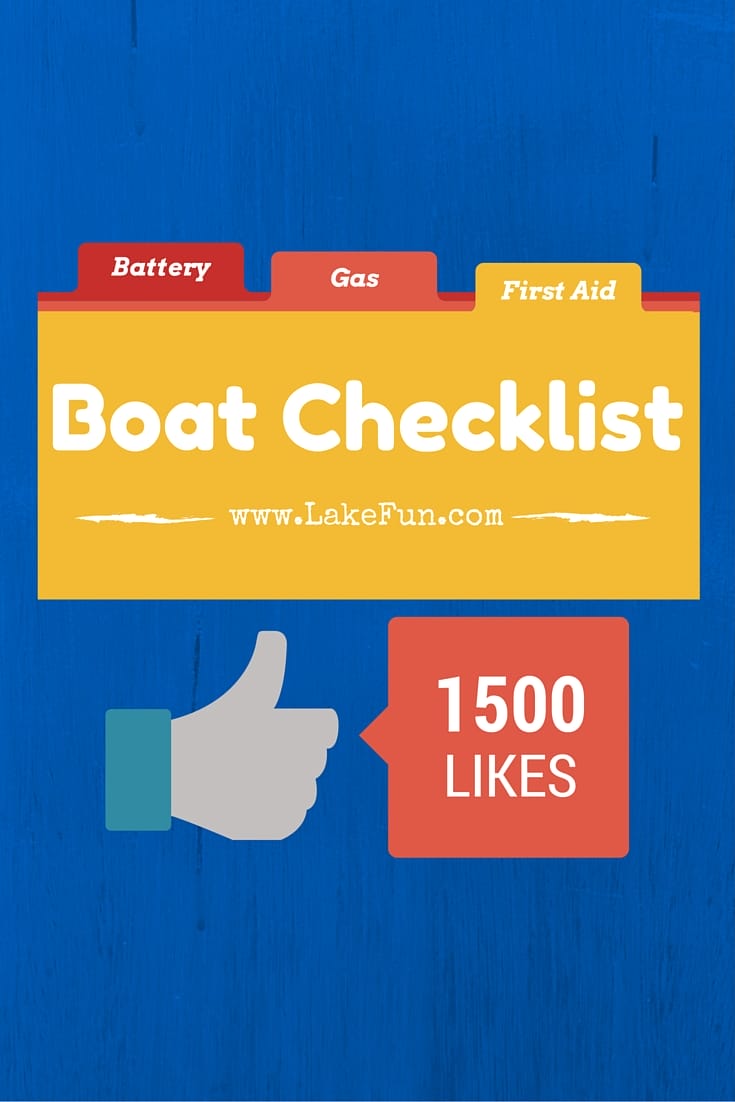 Author Rating
Software Name
Spring Boat Maintenance Software
Operating System
Windows, MAC, Linux, Android
Software Category
4 Boat Prep Ideas, Easy Spring Boat Checklist
Price
Landing Page